LES PHOTOS FÉTICHISTES DE ZAZA

ZAZA's FETISH PHOTOS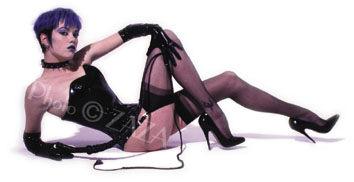 Photos © ZAZA / Reproduction interdite / Reproduction is not allowed
Zaza est la célèbre femme photographe érotique et fétichiste française.
Zaza réalise des photos érotiques et fétichistes depuis le début des années 80
Elle vous offre quelques-unes de ses plus belles photos.
Zaza is the famous french woman fetish photographer. Enjoy her photos !
Cliquez sur les noms ou sur les photos fétichistes pour les voir en grand format
Click on the names or on fetish photos to admire them with a big size
ZAZA recherche des modèles majeurs féminins ou des couples pour ses photos et vidéos.
Envoyez votre candidature accompagnée de photos à :
ZAZA is looking for fetish female and male models for her photos and videos. Send your photo to :
Editions ZAZA, B.P. 63206, 44032 Nantes Cedex 1, France
Toutes ces photos sont © ZAZA, toute reproduction sur tous supports, y compris les supports informatiques, est strictement interdite sous peines de poursuites.
All these photos are © ZAZA, reproduction by any manner is NOT allowed.